Get So Much More Than
Just A Billing Service
Pro EMS Solutions is not simply an ambulance billing service.
We also offer a comprehensive, integrated plan to help improve your
agency's operations, administrative, and clinical functions.
Bring Us Your Biggest EMS Technology, Billing and Administrative Problems.
Welcome a tried and true process backed by 50 years of EMS experiences into your agency. 
Pro EMS Solutions began as an effort to share our gained knowledge and experiences with our EMS community. From the beginning, we noticed many of our clients sharing the same frustrations we had previously experienced with endless—and often confusing—processes.
With our roots planted in EMS administration, operations, patient care, technology and training, our team is uniquely qualified to help your agency adapt to the constantly changing industry, so you can help more patients while completing all the red tape.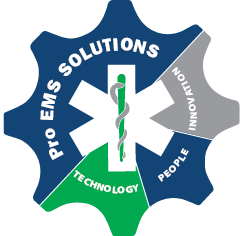 TECHNOLOGY
Each client has their own set of challenges,  so we optimize a technology system to maximize their impact.  They receive the same technology used at Pro EMS, so we are certain our level of expertise stretches far beyond what a regular vendor could offer.  
 PEOPLE
Our clients expect EMS billing and technology from us, but they get so much more.  Each member of our team aims to equip them with the right tools, analysis, support, and insights to help them grow far beyond their expectations. 
 INNOVATION
There isn't much we haven't seen in the last five decades in EMS. Once we arrived at a system that was proven, scalable, and adaptable to any EMS system, Pro EMS Solutions was launched to empower agencies of all sizes to truly focus on delivering exceptional patient care.
Launched by Bill Mergendahl, President & CEO of Pro EMS, Pro EMS Solutions provides patient-focused, clinically sophisticated, and efficient EMS systems that are proven, scalable, and adaptable. Pro EMS Solutions commits resources to assist with many EMS administrative functions, including billing, in a cost-effective manner.
Keeping with industry best practices, Pro EMS Solutions converts patient care reporting from paper to an electronic system capable of reporting and benchmarking data. Our technology infrastructure and state-of-the art systems for training, reporting, and tracking have been in place for years, and they've been developed with additional capacity to be utilized by other EMS systems and hospitals.